Autogarage Wij zijn een universeel garagebedrijf en verzorgen dus het onderhoud aan alle merken auto's. Ook doen wij de in- en verkoop van alle merken auto's. We hebben gemiddeld 20 auto's op voorraad en kopen verder ook auto's in op bestelling. Momenteel zijn we in de werkplaats bezig met drie 1e-monteur APK-keurmeesters en één 1e-monteur. We zijn ook een erkent leerbedrijf en bieden dus ook één of twee stage lopers een plek aan. Als M. van de Velde BV zijn wij aangesloten bij de BOVAG en ISO 9002/14001 en VCA gecertificeerd. Om een afspraak te maken kunt u bellen, mailen en langs komen. Mocht u een leenauto nodig hebben, dan is dat mogelijk. Laat dit graag wel tijdens het maken van de afspraak weten. Hieronder een opsomming van alle werkzaamheden die we uit kunnen voeren. Buiten deze lijst kunnen we motorisch alles vervangen, van bougies tot de koppeling en van de dynamo tot de gehele motor.
APK keuring
Airco onderhoud
Banden en Wielenwissel (met Gratis opslag*)
Grote beurt (met Gratis APK)
Kleine beurt
Ruiten vervangen
Schadereparaties (erkent)
Taxaties
Trekhaken monteren
Uitlezen van foutcodes
Uitlijnen
Wij zijn van 06.00 tot 19.00 open om uw auto te ontvangen of om mee te geven. De werkplaats is geopend van 08.00 tot 17.00.
* voor klanten die door ons ook het onderhoud laten doen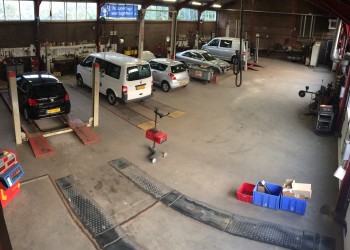 Uitlezen foutcodes Geeft uw auto een storing aan of gaat er een lampje branden op het display? Kom dan bij ons langs. We kunnen dan met behulp van een computer zien wat er aan de hand is en u snel weer op weg helpen.
Airco onderhoud Een airconditioning wordt tegenwoordig niet meer beschouwd als luxe. We rekenen erop. Dit betekent echter niet dat het gebruik van de airco altijd gegarandeerd is. Sterker nog, zonder onderhoud van uw airconditionning zult u binnen de kortste keren geconfronteerd worden met een defect systeem. En dat gebeurt vaak als het u niet uitkomt Een airco is niet onderhoudsvrij. Per jaar verliest een airco gemiddeld tot 10% koudemiddel. Dit middel zorgt, naast koeling, voor smering van de airco. Door gebrek aan voldoende smering van het systeem tijdens maximale prestatie in warme maanden, kan ernstige schade aan het systeem ontstaan. De airco-onderhoudsbeurt bestaat uit:
Legen systeem
Vacumeren
Lektest
Druktest
Diagnose stellen
Hervullen met koudemiddel